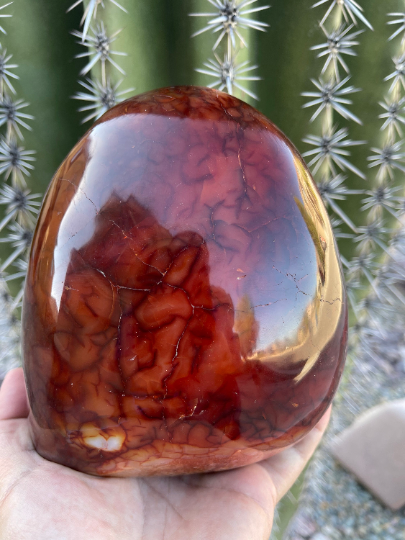 Carnelian Freeform, Large
Carnelian; Large Freeform
Size: 6"x5"x3"
Weight: 2.57kg; 5.6lbs

This is a prize piece of Carnelian with two very different looks on either side. One side is blood red while the other is more white.

Carnelian ranges from white, to a deep, almost blood red color, often swirled together with caramel browns and oranges. Carnelian is in the Chalcedony family and is a silica mineral with a hexagonal crystal structure. Its color comes from iron oxide which is reddish brown. Carnelian might be referenced under the names Sunset Stones or Artist Stones. The stone has documented use dating before Ancient Egypt.

Energy: Some believe orange Carnelian is blessed with feminine energy and is often referenced as promoting sexual pleasure. As a fire stone, Carnelian is said to bring light and life into the body or home.

About our rocks: Each of the rocks on this site (with the exception of tumbles) were hand selected by either Steven or Michelle Marshall. We tend to select pieces that catch our eye and somehow stand out from the others. Perfection is not a goal. We see the imperfections and see natural beauty. Many of the samples we offer have nicks, inclusions, cracks, impurities, and other oddities. We try to describe and disclose to the best of our abilities, but realize you are purchasing a natural piece of the Earth with its own personality, energy, and beautiful imperfections.