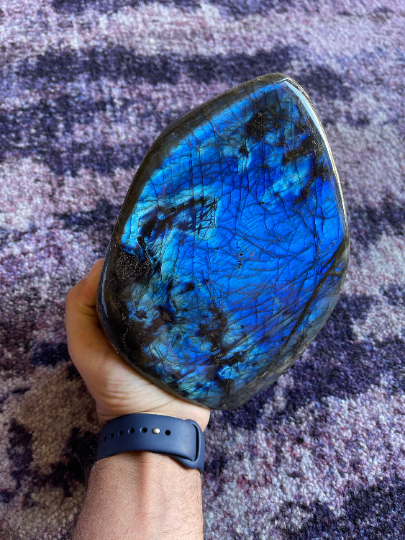 Large Labradorite Freeform

Size 7" tall x 6" wide x 3.25" thick
Weight: 3630g or about 8lbs

This large specimen flashes beautiful blue and is sure to get attention in any room. Very nice quality.

Labradorite was identified in Labrador, Canada. Today the mineral is found in a few sites around the world and is heavily sought after for its play on light. It has a triclinic crystal structure which results in refraction as light passes through the layers giving the rocks an iridescent effect.

Energy: Labradorite is said to impact the crown chakra and is an excellent companion stone to guide you through turbulent change.

About our rocks: Each of the rocks on this site (with the exception of tumbles) were hand selected by either Steven or Michelle Marshall. We tend to select pieces that catch our eye and somehow stand out from the others. Perfection is not a goal. We see the imperfections and see natural beauty. Many of the samples we offer have nicks, inclusions, cracks, impurities, and other oddities. We try to describe and disclose to the best of our abilities, but realize you are purchasing a natural piece of the Earth with its own personality, energy, and beautiful imperfections.