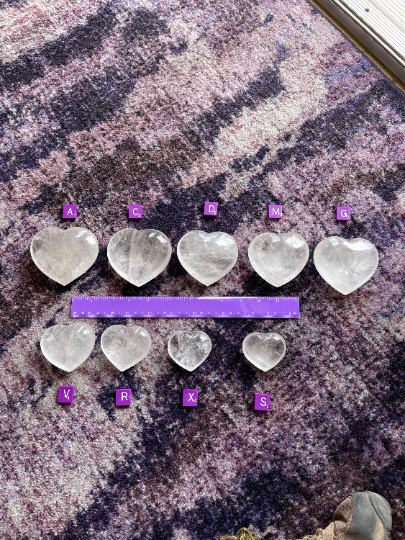 Quartz Crystal Heart Stone
Quartz Crystal Heart

A: 3.5" x 3.2" 346g
C: 3.4" x 3.2" 346g
D: 3.3" x 3" 285g
G: 3.4" x 3.1" 301g
M: 3.1" x 3" 297g
V: 2.7" x 2.4" 187g
R: 2.6" x 2.3" 153g
X: 2.25" x 2" 106g
S: 2.2" x 1.9" 99g


Quartz is the most common mineral on Earth making up about 20% of the Earth's crust. The overwhelming majority of Quartz exists as components of other rocks, sand, and dirt. Large Quartz crystals able to be collected or shaped are much more rare. Quartz has been used as a gemstone since antiquity and there are many references to it in historical writing.

Energy: Some believe that Quartz helps those who seek clarity and that it harmonizes with all of the chakras.

About our rocks: Each of the rocks on this site (with the exception of tumbles) were hand selected by either Steven or Michelle Marshall. We tend to select pieces that catch our eye and somehow stand out from the others. Perfection is not a goal. We see the imperfections and see natural beauty. Many of the samples we offer have nicks, inclusions, cracks, impurities, and other oddities. We try to describe and disclose to the best of our abilities, but realize you are purchasing a natural piece of the Earth with its own personality, energy, and beautiful imperfections.