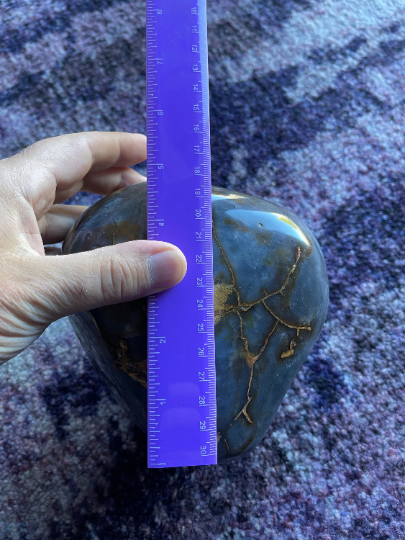 Rainbow Agate Freeform

Size: 5" x 5" x 3.5"
Weight: 3.4kg or 7.5lbs

I purchased this piece on a table with many rocks. I was quickly attracted to it's blue-ish grey color. The rocks color struck me as unusual and I just had to have it. It's a large, very nice piece with a lot of character and would make a great conversation piece or gift.

Energy: Rainbow agate is considered by some to be a motivation stone. It is said to help you gain strength and help make things happen in your life.

About our rocks: Each of the rocks on this site (with the exception of tumbles) were hand selected by either Steven or Michelle Marshall. We tend to select pieces that catch our eye and somehow stand out from the others. Perfection is not a goal. We see the imperfections and see natural beauty. Many of the samples we offer have nicks, inclusions, cracks, impurities, and other oddities. We try to describe and disclose to the best of our abilities, but realize you are purchasing a natural piece of the Earth with its own personality, energy, and beautiful imperfections.