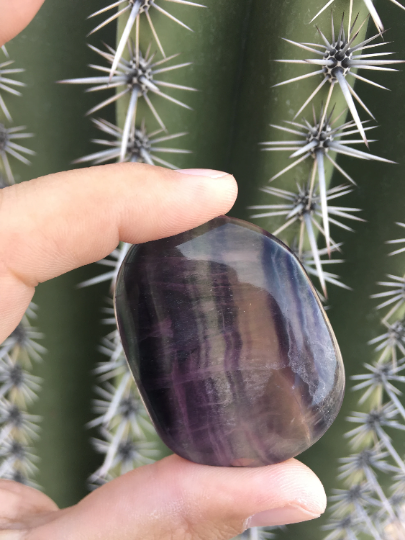 Fluorite Palm Stones

******We ship the exact stone you pick*****

Size: Varies, but roughly 1.5x2"
Weight: Varies, but 34g+

Fluorite is composed of Calcium and Fluorine and makes some beautiful crystal structures that can be formed and polished or left in natural crystal shapes. They often come in green or purple colors and sometimes have banded or chevron patterns.

Energy: Fluorite crystals are said to remove negative energy, boost confidence, remove self doubt, and are often used as a study aid.

About our rocks: Each of the rocks on this site (with the exception of tumbles) were hand selected by either Steven or Michelle Marshall. We tend to select pieces that catch our eye and somehow stand out from the others. Perfection is not a goal. We see the imperfections and see natural beauty. Many of the samples we offer have nicks, inclusions, cracks, impurities, and other oddities. We try to describe and disclose to the best of our abilities, but realize you are purchasing a natural piece of the Earth with its own personality, energy, and beautiful imperfections.