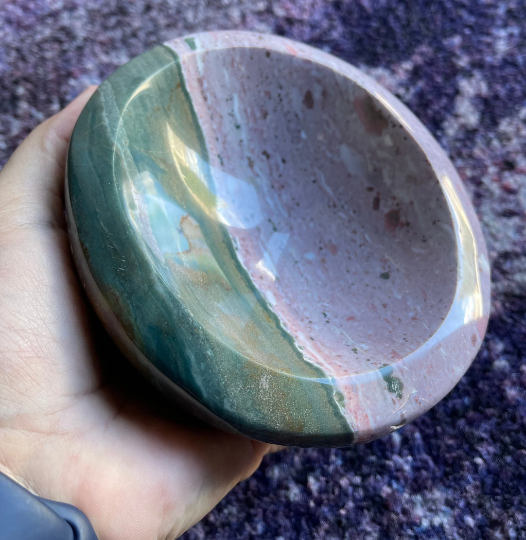 Heavy, Hand-Crafted Ocean Jasper Bowls

A: 1.23kg Very heavy bowl 5.5"x4.75"x2" Beautiful bi-colored piece with line through the piece. Very nice and very firm piece.

B: .93kg Very heavy bowl 5.25"x5"x2" Another beautiful and very firm piece. This one has lots of colors you tend to see in Ocean Jasper.

C: .7kg Heavy elongated bowl 7.5"x3.5"x1.5" Beautiful banding and quartz inlays. Notice the druzy (Quartz Crystals) on top rim. I took an extra picture. It's the highlight of the piece because of the quartz crystals preserved in the rim. Note, this does cause it to be a rough spot.

D: .66kg A smaller heavy bowl. 4.25" round by 1.75". Very nice and soft purple hues and bands.

E: .51kg 4.5"x4.25"x1.25". This heavy bowl is not perfectly stable. There is an extra picture of an inclusion on the bottom which causes it to be less firm than others. Still functional and very beautiful. Discounted and worth it!

Ocean Jasper is a rare and colorful form of Jasper found in the hills of Madagascar. It is known for have many colors in one piece which makes it prized by collectors.

Energy: Ocean Jasper is said to provide calm and uplifting energy during difficult times.



About our rocks: Each of the rocks on this site (with the exception of tumbles) were hand selected by either Steven or Michelle Marshall. We tend to select pieces that catch our eye and somehow stand out from the others. Perfection is not a goal. We see the imperfections and see natural beauty. Many of the samples we offer have nicks, inclusions, cracks, impurities, and other oddities. We try to describe and disclose to the best of our abilities, but realize you are purchasing a natural piece of the Earth with its own personality, energy, and beautiful imperfections."